Studying Feng Shui in Asia
Studying Feng Shui in Asia is rather a wonderful and unique process, to say the least.
Unlike the Western practice, most of the study is conducted practically out in the field (rather than in a classroom), whilst theory is usually imparted on trains or in a taxi while waiting to go to the next consultation.
I have learnt to have the highest respect for the 'link in destiny' or 'yuen' that you need to have with your teacher.  This link is created by both the teacher and the student and, within it, there are many special experiences and lessons to be learnt for every practitioner of Feng Shui.  I can only say that I feel very fortunate to have had the opportunity to study with all my Chinese teachers, in particular Master Lo.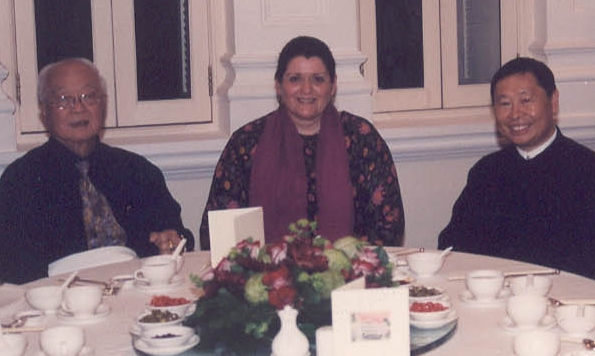 Left: Grand Master, Yap Cheng Hai.  Middle: Feng Shui Master, Gayle Atherton.  Right: Grand Master, Raymond Lo.
Master Lo has always been very special to me because he was my first teacher, a source of encouragement and support, and the link in destiny is still strong.  He remains a distinguished and inspiring source of good, intelligent Feng Shui 'chit chat'.
Master Yap is a newer addition to my life.  I met with Master Yap when he first began to teach Feng Shui in Australia.  His enthusiasm for and love of Feng Shui is passionate and enlivening for everyone he meets.  Again there has been the 'link in destiny'.
Both of these Masters are now teaching in Western countries.  Master Lo is highly successful in Europe, the U.K., Hong Kong and Singapore.  Master Yap is very successful in Australia, as well as many countries overseas.
I would encourage any student who is serious about the study of Feng Shui to pursue learning with these two great teachers and follow your own unique link in destiny…
Gayle Atherton
January 2000